RESEARCH TOPICS
1. Design and preparation of 3D micro/nano structured functional materials
2. Study on the preparation mechanism of porous metal materials
3. Research on nanoporous metals, metal compounds and their composites for energy storage and conversion
Design and preparation of 3D micro/nano structured functional materials
Advanced functional materials with three-dimensional micro/nano structures have large specific surface area, high porosity and high density of active sites. They have broad application prospects in the fields of catalysis, energy storage, sensing, et al. Present research explores the construction of multi-scale three-dimensional materials with continuous pore penetration through alloy melting-selective corrosion, sacrificial template method, solution self-assembly, et al. We also handle surface interface modification, crystal plane optimization, atomic-scale regulation, etc., via physical, chemical, electrochemical and other approaches to understand its common principles, and to provide a universal solution for the preparation of self-supporting, flexible and multifunctional materials.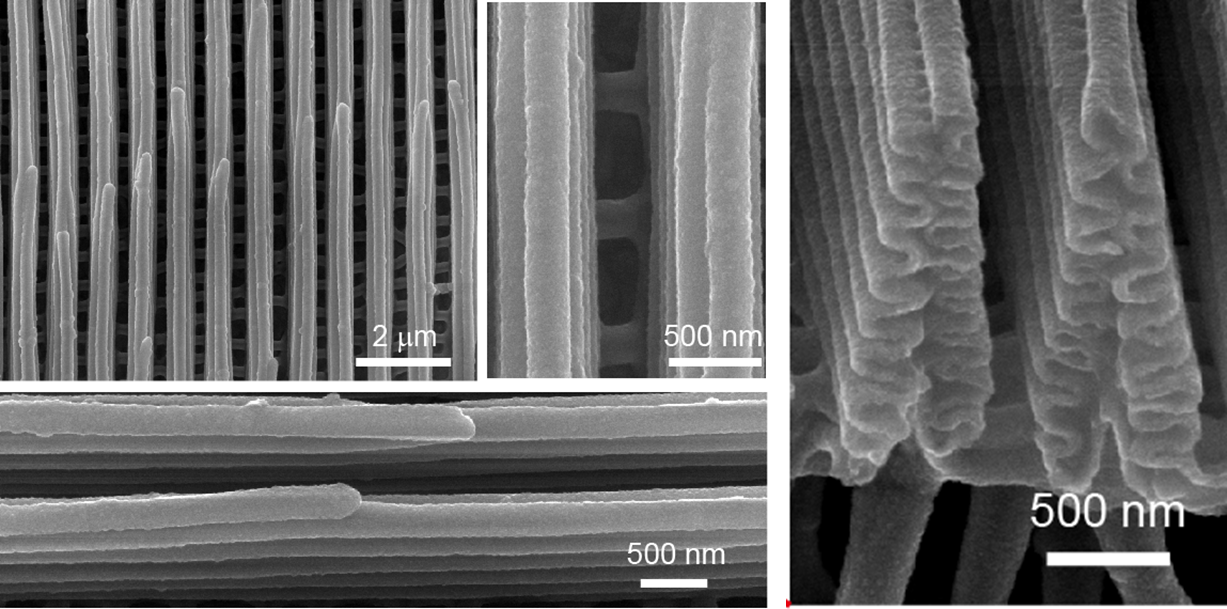 Selected Publications:
Angew. Chem. Int. Ed., 2011, 50, 8370. Adv. Funct. Mater., 2012, 22, 1578. Adv. Mater., 2014, 26, 8023.
Study on the preparation mechanism of porous metal materials
Porous metal-based materials not only have three-dimensional micro/nano structure, but also own high electrical conductivity, multiple components and adjustable properties. Current research explores the design and preparation of porous metals, alloys, and their compounds based on the phase diagrams, understand the phase changes and distribution in multi-component systems during the dissolution-crystallization process, and reveal the formation mechanism of continuous interpenetrating phases. We explore efficient selective corrosion methods, regulate the composition and pore structure of porous solid solutions, multiple alloys and compounds, and understand the effects of chemical environment on atom rearrangement and surface/interface formation. Through theoretical simulation and material design, we try to understand the influence of components on the structure and lay the foundation for the establishment of structure-activity relationship.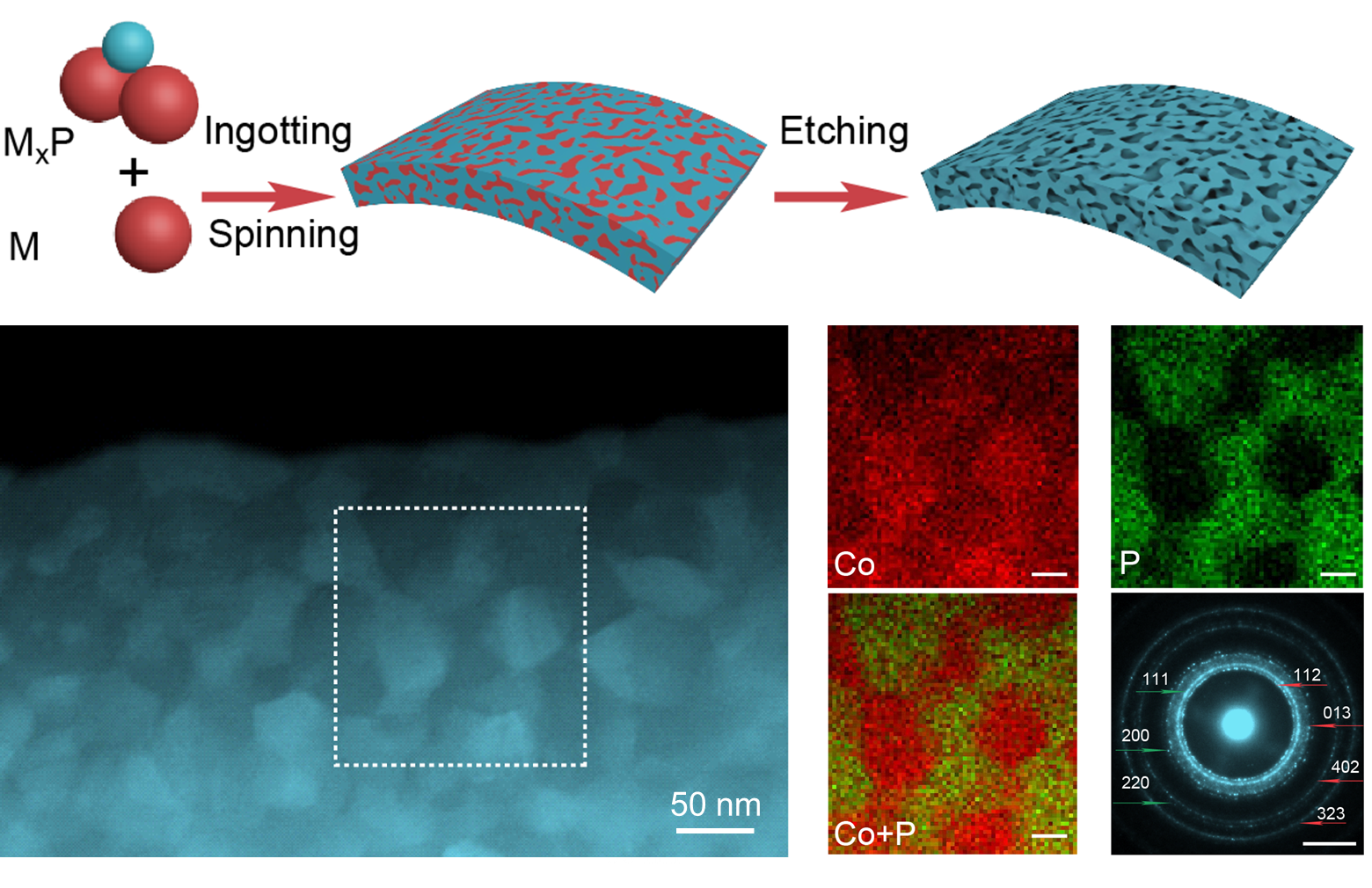 Selected Publications:
Adv. Mater., 2016, 28, 2951. Energy Environ. Sci., 2016, 9, 2257. Nano Energy., 2019, 59, 146.
Research on nanoporous metals, metal compounds and their composites for energy storage and conversion
We explore the electrocatalytic properties of porous materials, including hydrogen /oxygen evolution from water, reduction of oxygen/nitrogen/carbon dioxide, hydrogen oxidation, etc.. Also, we explore the electrochemical properties of porous metal-based materials, including electrochemical capacitance, interface redox reaction and other characteristics. We try to reveal the mechanism of the catalytic process and understand the properties of electrochemical interfaces via (quasi)in situ phases characterization, surface observations and theoretical calculations. Based on the characteristics of the micro/nano porous materials, we design and fabricate new type energy devices such as electrolytic cells, fuel cells, metal air batteries, aqueous rechargeable batteries, hybrid energy storage systems, etc.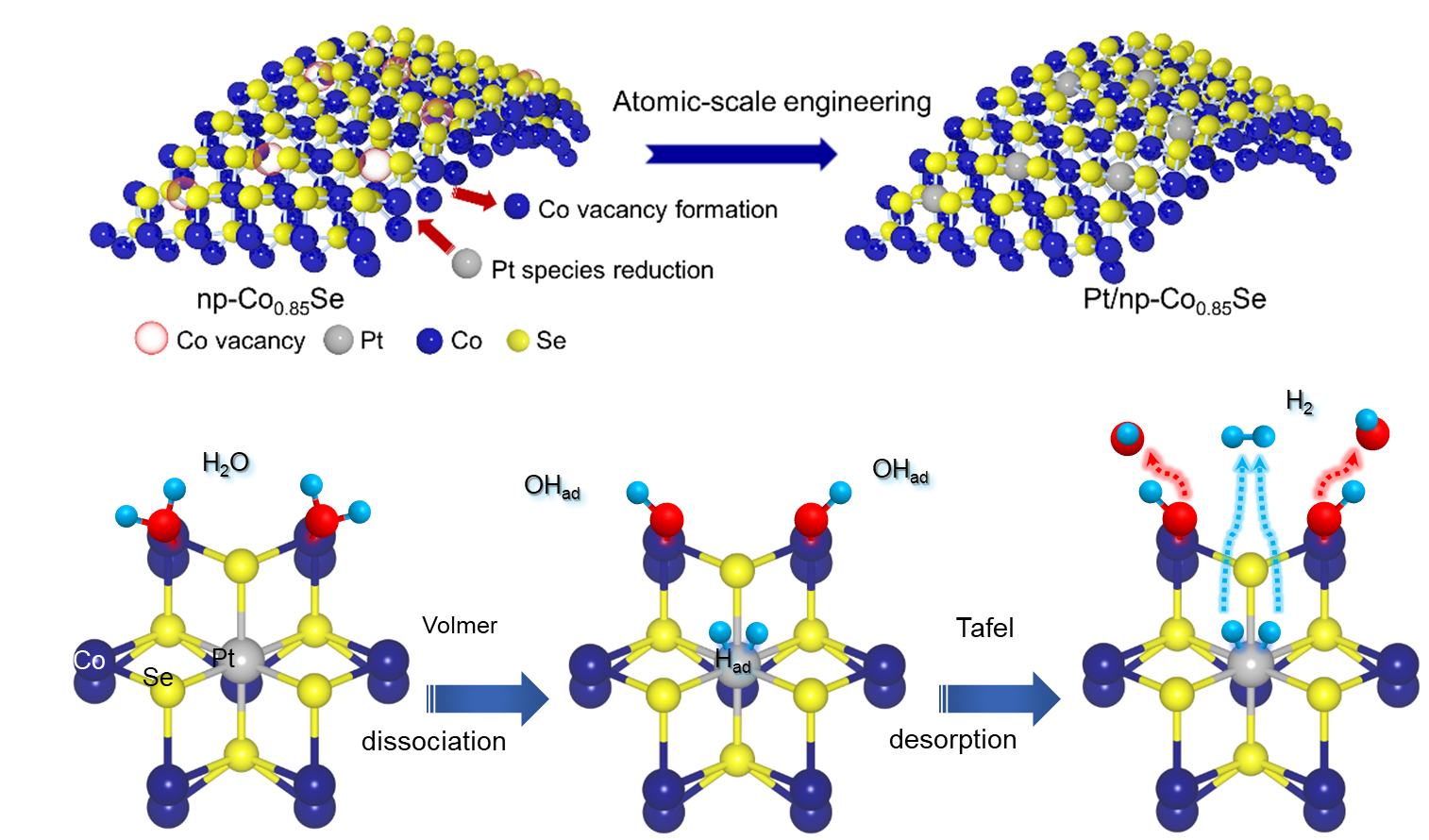 Selected Publications:
Advanced Materials, 2016, 28, 8945-8949. Nature Communications, 2019, 10, 1743. ACS Energy Lett. 2020, 56, 192.